GLAM events in the digital space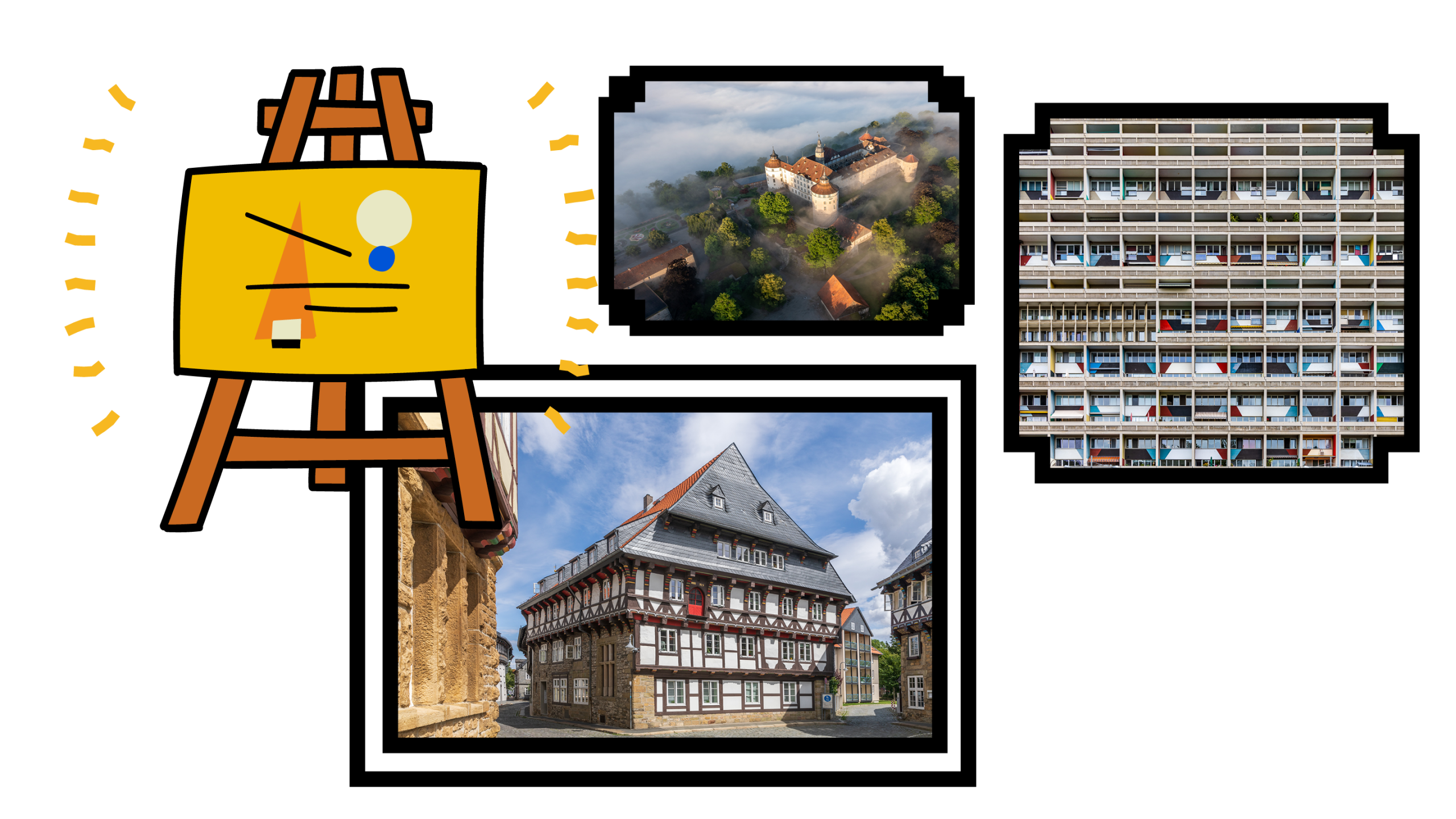 How can exchange between volunteers and cultural heritage institutions succeed even in times of a pandemic? With a series of virtual GLAM events, Wikimedia proved in 2021 that the digital space in particular can lower thresholds and facilitate access. A highlight of the year was the online awards ceremony for the Wiki Loves Monuments (WLM) photo contest, which set a new record for submissions.
"The days when we were chased off the yard by owners with dogs while photographing monuments are over," jokes Elke Wetzig. The longtime Wikipedian is moderating the online awards ceremony for the Wiki Loves Monuments (WLM) photo contest – and announced a special greeting. Prince Philipp zu Hohenlohe-Langenburg, the lord of the castle himself,
congratulates the winning image – a drone shot of Langenburg Castle in Baden-Württemberg, picturesquely staged by Matthias Süßen on the mountain spur in the morning mist of the Jagst Valley.
"We are extremely proud that a photo of our castle has won the competition," he emphasizes in the video feed, adding, "We must direct our thanks to all participants, because they support the preservation of cultural monuments through their work and passion."
Indeed, it is precisely this idea that is at the heart of the competition organized by Wikipedians – and not the competition for the winner's podium. "Given that over 41,000 images were submitted, anyone who made it into the top ten can feel like a winner," says Wikipedian Wuselig, who has helped shape WLM in various positions since the first German edition in 2011. The competition now takes place on every continent –
even in Antarctica. In Germany, its popularity has never been greater than this year.
A 180-degree turnaround
The 2nd place – the picture of a half-timbered house in Goslar by Martin Kraft – is also highly valued. "Great marketing for our city," says Goslar's former mayor Oliver Junk delightedly, also in the video. "Thank you for volunteering in this area as well." Numerous high-ranking representatives of cultural heritage institutions also sent appreciative greetings for the award ceremony – among them Maria Böhmer, President of the German UNESCO Commission, Ulrike Lorenz, President of the Klassik Stiftung Weimar, or Christoph Martin Vogtherr, Director General of the Stiftung Preußische Schlösser und Gärten.
According to Holger Plickert, project manager for Wikimedia Deutschland and an expert in the GLAM field, it represents "a 180-degree turnaround" that cultural heritage institutions are now so open to Wikimedia projects. Where a lot of convincing was needed just a few years ago to allow volunteers to photograph cultural and architectural monuments, invitations are now being extended.
Breaking down barriers in the digital space
The digital WLM Gala was just one of many projects that Plickert, together with the community and institutions, made possible in 2021 despite the ongoing pandemic. A series of participatory online formats not only maintained the lines of communication between volunteers and institutions – in some cases, the circle of participants even expanded on virtual KulTours through museums and libraries. "We want to be inclusive and low-threshold," Plickert emphasizes. He says this has been so successful in the digital space that, since January 2022, the established format "GLAM digital" has been offered in cooperation between Wikimedia Germany, Wikimedia Austria and Wikimedia Switzerland.
Plickert had another positive experience on the virtual KultTour through the Monacensia library in the Hildebrandhaus in Munich, which focuses on female heritage. Never before have so many women attended a GLAM event: over 80 percent. "I was able to meet quite a few female Wikipedians for the first time," Plickert said. "This shows that people can also be won over by a topic."
In turn, he sees the fact that more and more often the directors themselves take the time to present their collections as an important signal from the cultural heritage institutions to the volunteers. For example, Prof. Michael Embach, Director of the Research Library of the City of Trier, has organized a virtual tour of his institution's treasury – and presented treasures such as an original Gutenberg Bible or a fishing calendar that is unique in the world.
Signals in three directions
It is not only GLAM events that are intended to ensure more and better visibility of cultural heritage in Wikipedia and its sister projects, but also the kuwiki (Art + Wikipedia) working group, which was founded in 2021. The art historians who meet here with volunteers do not just contribute as experts to optimize some image descriptions in the free encyclopedia. They also promote Wikipedia in their field as an option for publication with a high reach.
The importance of documentation in general, and thus the preservation of cultural heritage, is illustrated by Wikipedian Thomas. He, too, is a driving force behind the Wiki Loves Monuments competition, which for the first time awarded a special prize for destroyed and threatened cultural monuments in 2021. "We offered this prize at short notice under the impression of the 2021 flood disaster. The three prize winners show a bridge in the Ahr valley a few weeks before it was destroyed, a villa in Brandenburg that has been left to decay, and an industrial monument that has been partially demolished."
For Holger Plickert, the virtual WLM award ceremony was a highlight of the year because it sent three signals at once. To volunteers: "You're doing great work, stay on the ball." To potential community members: "It's possible to get involved, despite the pandemic." And to institutions: "Look at all the great people who are committed to the issues you're also committed to."
"Through your photos and through your commitment to Wiki Loves Monuments, you are all helping to make Germany's rich cultural heritage accessible to everyone."
 – Prof. Dr. Maria Böhmer, President German Commission for UNESCO
"The WLM competition is an alliance that we need for the monuments. Through the photos you post, our monuments can be experienced worldwide."
 – Prof. Dr. Christoph Martin Vogtherr, Director General SPSG
"The Klassik Stiftung Weimar congratulates Wikimedia on this wonderful competition, which calls on hundreds of thousands of volunteers and enthusiasts worldwide to take photos of architectural heritage. In the future, these photos will enrich Wikipedia's store of knowledge, and they will encourage people to become deeply involved with cultural heritage."
 – Dr. Ulrike Lorenz, President Klassik Stiftung Weimar
"The collaboration with Wikimedia offers us a welcome opportunity to increase public awareness of the Treasury. As a culture-supporting institution, we depend on cooperation. Wikimedia is an important partner in this regard. The portal combines content quality with a high media presence."
 – Prof. Dr. Michael Embach, Head of the Research Library of the City of Trier/City Archive
"We are trying out new ways of commemorative culture, which we would like to pursue together with partners from culture, education and science. For me, the cooperation with Wikimedia Deutschland and the volunteers from the Wiki community is particularly valuable. The fact that we were able to present our institution and our practice of curatorial field research as part of the KulTour is important for us. This way we always get new allies, with whom we also like to exchange ideas in other projects. Together we want to create new knowledge, network knowledge and share knowledge."
 – Anke Buettner, Director of the Monacensia
"Preservation of historical monuments makes sense when cultural monuments can be appreciated by society. Civic engagement in historic preservation has a tradition that goes back more than 200 years: information and images about cultural heritage are passed on to inspire andraise awareness. Wiki Loves Monuments is now a permanent fixture in the important field of action of monument mediation, and this fills me with admiration."
– Dr. Gunnar Schellenberger, President of the German National Committee for Monument Protection, President of the State Parliament of Saxony-Anhalt