Our aim with re•shape – A Wikimedia program to support knowledge equity is to support people who are marginalized as a result of structural racism to spread marginalized knowledge using Free Licenses and Free Knowledge platforms such as Wikipedia, Wikimedia Commons and Wikidata.
At Wikimedia Deutschland, we are convinced that free access to knowledge contributes to an informed, fair and cosmopolitan society – provided, that is, that everyone is capable of generating and accessing knowledge to the same degree. At the same time, we are aware that this is not the case and that questions of power play a significant role in determining what becomes acknowledged as knowledge and what is included in official narratives. Even in the realm of Free Knowledge, the views and perspectives of people who experience racism are marginalized and consequently almost invisible to date.
We follow the principle of self-determination: You decide the content of your project (as long as it complies with the content criteria), and you decide which parts of the project you want to release under a Free License and in what form. While we expect you to be interested in using Free Licenses, you can decide not to publish some or all of your content under a free license if you have good reasons. The program provides a framework for weighing up the pros and cons of publishing marginalized knowledge under a Free License and for testing them in practice.
re•shape has not been a solo effort: In order to tailor the program to existing needs as best as possible, we have established a Board of Trustees who we have been working with closely. The Board of Trustees will also be largely responsible for selecting which projects will receive funding. You can read more about the Board of Trustees and its role in the program here. neue deutsche organisationen – das postmigrantische netzwerk e.V. (ndo) also supports us. The ndo is a nationwide network of nearly 200 charities, organizations and projects. Its members are the descendants of labor migrants and refugees, Sinti and Romani people, the people of the African diaspora, as well as Jewish, Muslim and other community advocates who seek to foster dialogue. Some of them refer to themselves as People of Color (PoC) or Black Germans, 'hyphenated Germans' or something else altogether. Their common ground: The ndo sees itself as a post-migrant countermovement against racism and in favor of an inclusive Germany."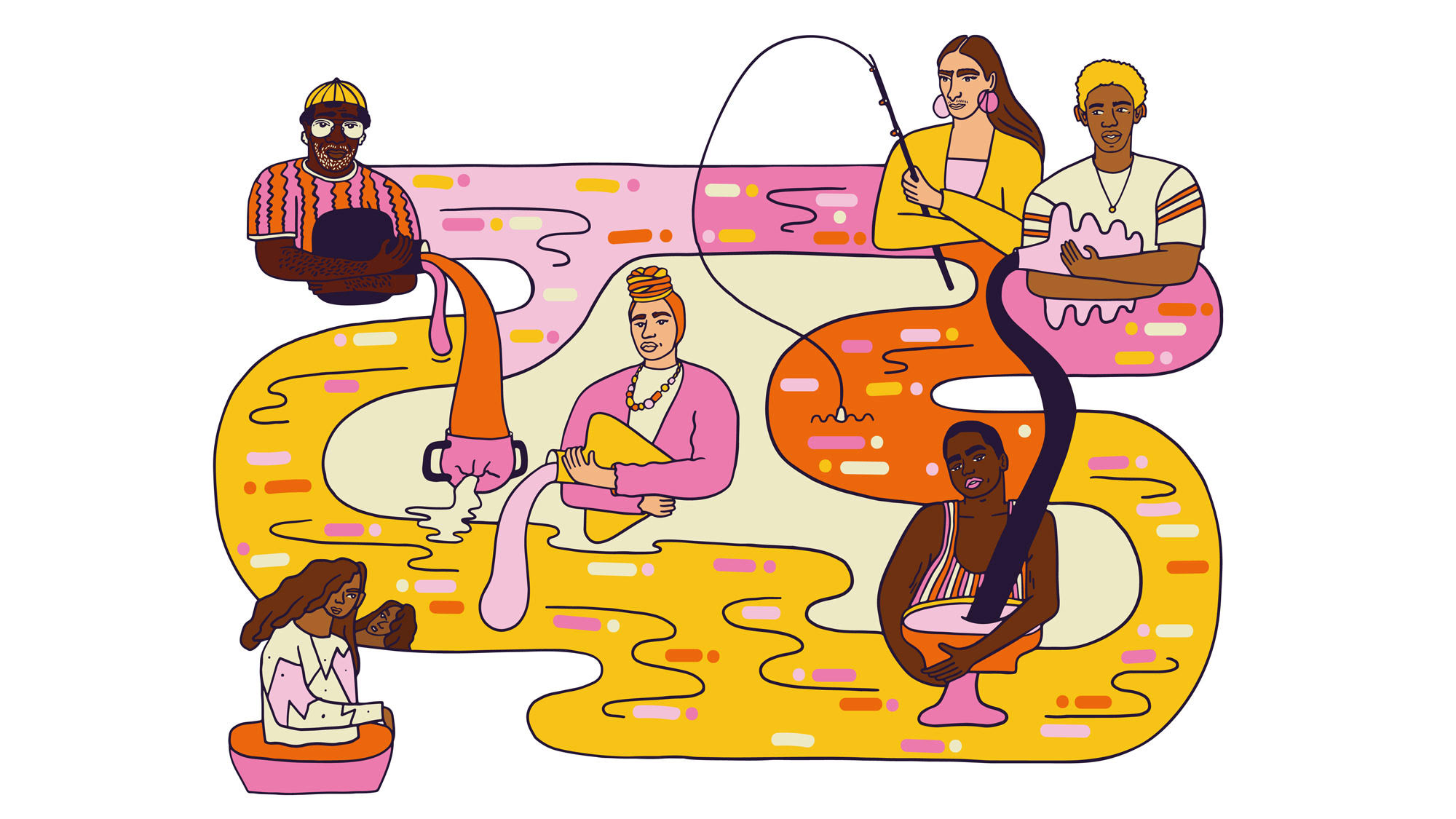 Who is the program aimed at?
The program is aimed at people and communities from Germany who are negatively affected by racism. Project teams can have up to three members and the program is open to people aged 16 or over.
What is eligible for support?
Funding and support will be provided for projects that intend to open up more space for marginalized knowledge by and about communities that experience racism by publishing some or all of the results of these projects under a Free License. That way this knowledge can also be used on Free Knowledge platforms like Wikipedia, Wikimedia Commons or Wikidata. This knowledge must come from the community itself so that it can be shared autonomously.
The format you use is up to you – examples include, but are not limited to, video formats such as explanatory videos or social media posts, audio recordings such as podcasts or interviews, and texts such as essays or blog posts. Other alternatives include creating free educational materials or hosting and documenting events (e.g., skillsharing workshops, podium discussions or storytelling events).
The project can:
be brand new,
be part of an existing project, or
rework and build on content from a completed project.
Consequently, the project can:
run in its entirety within the funding period (mid-September 2023 – mid-April 2024), or
run beyond the funding period (i.e., starting before and/or finishing after).
How will funding and support be provided?
Support will be accommodated to the needs of the recipients and will consist of the following elements:
Financial support

Individuals: If you are participating in the program as an individual, you will receive a personal stipend of up to €5,000. The aim of this stipend is for you to be able to run your project independently to the greatest extent possible. This means that the funds may also explicitly be used to cover your own living costs.
While we work under the basic assumption that every funding recipient will claim the full amount of €5,000, we understand that personal circumstances and also project needs can vary greatly; we can therefore reduce this amount at your request. We are committed to finding individual solutions to suit you and your project. You do not need to know what these solutions might look like when applying. Once the selection process is over, we will discuss with all funding recipients how they wish to receive their financial support.

Informal groups: You can join forces with up to two people for your project and submit an application together. If applying as an informal group, please indicate one primary contact for the application process. The support on offer is the same as for individual applications. However, since each project will receive funding of up to €5,000, this amount will be split among all group members. You do not need to know how you will split the funding when applying. Once the selection process is over, we will discuss with all funding recipients how they wish to receive their financial support.

Charitable organizations (e.g. initiatives, associations, archives, networks): In addition to individuals and informal groups, charitable organizations can also apply and receive funding of up to €5,000 in the form of a funding agreement. In this case, you must provide evidence of your charitable status, your charter and proof of registration as a charitable organization. You will also be required to submit a brief case and finance report at the end of the funding period. You can find templates and example reports here.

Where necessary, travel and accommodation costs for the kick-off and closing event will also be reimbursed, in addition to the funding provided. If you require the assistance of a companion or help with childcare, we will also cover these travel and accommodation costs and provide childcare on-site.

Non-material support

Non-material support will be provided in two ways:

Workshops will explore the potentials and possibilities of Free Licenses and Free Knowledge platforms such as Wikipedia, Wikimedia Commons and Wikidata for participants' own projects. These workshops will also act as a space for networking and dialogue.
Each project will receive the help and support of a mentor. These mentors are engaged with the world of Free Knowledge. They will provide advice on practical issues throughout the program.

The program

The program will support networking and dialogue among people who are also interested in publishing marginalized knowledge under a Free License or on Free Knowledge platforms. This will be facilitated by two events in particular: a two-day kick-off event in Berlin on September 8 and 9, 2023, and a closing event on April 12 and 13, 2024 (location tbd). Be sure to take note of these dates. Attending these events is vital both for networking and for arranging the non-material support. Please contact us as soon as possible if you are unable to attend either of the events, and we will work out a solution together.

The supporting program will be run chiefly in German, but translations and/or interpreters to and from English can be arranged as needed.
The programteam will review applications submitted within the application period against the formal criteria. If any substantiating documents or other information required for this formal review is missing, we will send you a message asking you to submit the missing material within one week of the end of the application period (by 23:59 on June 25, 2023). For mail submissions, once again the date of the postmark will be considered the date of submission.
All applications received by the application deadline that satisfy the formal criteria will be considered for selection. Projects will be selected based on the content criteria. The selection process will also take into account the promotion of different project formats and different content. A total of ten projects will be selected. The selection process will be conducted jointly by the Board of Trustees, a representative of the neue deutsche organisationen – das postmigrantische netzwerk e.V. and a representative of the Wikimedia Deutschland programteam.
Content criteria

Motivation: You wish to engage critically with Free Knowledge. You demonstrate an openness to the possibility of publishing some or all of the results of your project under a Free License and wish to engage and network with other program participants.

Positionality and approach: The project fulfills at least three of the following criteria:

Situated knowledge: You have a personal connection to the community or communities to which the project relates.
Community-oriented: You want to use the project to address the needs and/or demands of one or more marginalized communities and to use Free Knowledge in the interests of your community or communities.
Critical of power structures: Your project interrogates existing power structures and/or engages with inequalities in social and political participation.
Intersectional: You understand that different forms of discrimination are interwoven. This is reflected in your project – in terms of both content and the lived realities of the project team. Here, intersectionality always refers to forms of discrimination in their intersection with racism.
Empowerment-focused: Your project will empower one or more of your communities.

If you have any questions or would like to learn more, please don't hesitate to contact us, for example, by calling in to our telephone consultation hours at 030-577116220. We will be available to chat every Monday and Wednesday between 16:30 and 17:30 throughout the application period. We can also arrange one-to-ones if you need help and advice on your application. To arrange a one-to-one, please email reshape@wikimedia.de We will also be hosting an online info event during the application period at 18:30 on May 24, 2023 via Zoom. You can sign up for this event via email to reshape@wikimedia.de.

Formal criteria

Completeness: Applications must be complete in order to be eligible for selection. This means that the form must be completed in full. Charitable organizations must also enclose proof of charity status, their charter and proof of registration as a charitable organization with their application.
Applications must be submitted by the application deadline (using the application form, via email or postal mail). For applications submitted by postal mail, the date of the postmark will be considered the date of submission.
Language skills: You must have sufficient German and/or English language skills to participate in the program. If you understand the German or English version of our website and fill in your application in one of these two languages, we will assume that your language skills are sufficient.
Realistic objectives and feasibility.
Application phase

Applications could be submitted between Thursday May 11, 2023 and Sunday June 18, 2023 (23:59). You can find more information on the application process here.

Selection

The projects that will receive funding and support will be selected at the end of July. The selection committee will consist of the three members of the Board of Trustees (you can learn more about the Board of Trustees here), plus one representative each from the neue deutsche organisationen – das postmigrantische netzwerk e.V. and the Wikimedia Deutschland programject team. This committee will select ten projects from among the applications submitted to receive funding and support, starting in September 2023. You can read more about the selection criteria here. Applicants will be informed of the outcome of their application at the end of July.

Kick-Off

The program will launch with a kick-off event in Berlin on Friday, September 8 and Saturday, September 9 2023. An evening event on the Friday will provide an opportunity for participants to get to know one another. This will be followed on the Saturday by an orientation event in the form of workshops and an introduction to the world of Free Knowledge.

Project period

From September 2023 to April 2024, it will be time to get down to the projects themselves. When exactly participants will work on their projects and how intensively will differ from project to project and depends on the logistics of each project.

Closing event

The program will conclude with a closing event on Friday, April 12, and Saturday, April 13, 2024 (location tbd) where project results will be presented and experiences discussed.