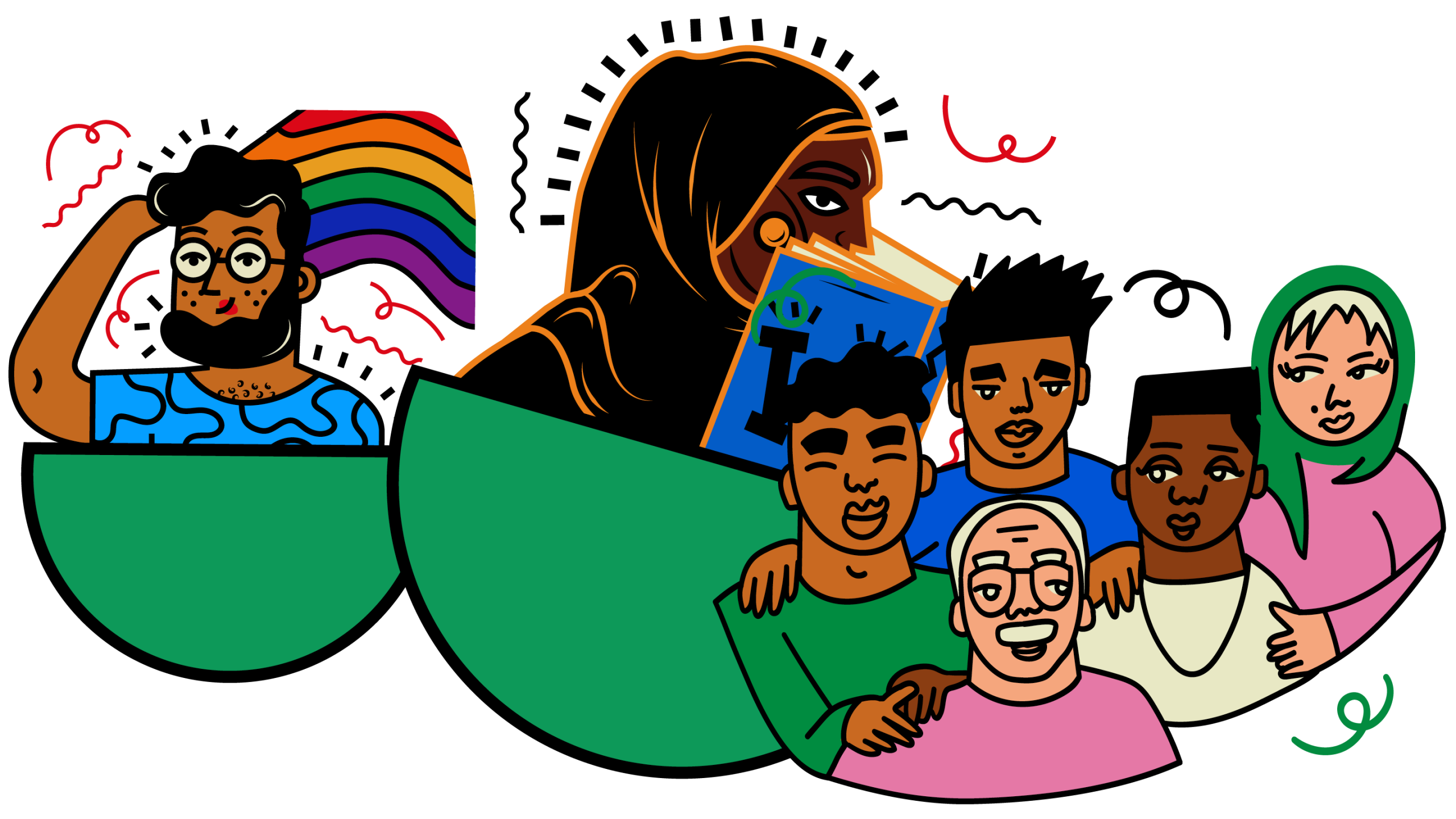 One of two strategic goals of the Wikimedia Movement is to create "Knowledge Equity". But how can this term be filled with life? In 2021, one answer to this question was the launch of the new discussion series "Knowledge. Power. Justice.", organized by Wikimedia Deutschland in cooperation with Deutschlandfunk Kultur. Underrepresented knowledge is also to become even more visible in Wikipedia.
"We've been working for a long time to connect Wikimedia's commitment to a free web – enabling everyone to participate and share their knowledge – with existing sociopolitical discourses," says Lilli Iliev, Head of Policy & Public Sector at Wikimedia Deutschland.
For this reason, Wikimedia launched the salon series "The ABC of Free Knowledge" in 2014, which brought together actors from the fields of politics, culture, journalism, and net activism to discuss topics from the Wikimedia spectrum. This frequently led to further collaborations – often with organizations and initiatives that had discovered new docking points in the field of "Free Knowledge" for themselves.
Since July 2021, there has been a discourse series that continues the salon idea: "Knowledge. Power. Justice." For this, Iliev has initiated a cooperation with Deutschlandfunk Kultur – which "promises an even greater reach" for the features which are also available as podcasts, ". The focus is on questions about the (re)distribution of knowledge in a networked society, about the unequal representation of women, BIPoC and other marginalized groups in politics, the media – and not least in Wikipedia.
Postcolonial challenges
Disinformation in election campaigns was one of the topics of the three events that have already taken place in 2021. Questions of power – that is to say, information power – are also attached to this. "How can public digital communication spaces be designed to mitigate the risk of disinformation while protecting freedom of expression?" is how Iliev describes the challenge.
Another issue was devoted to the "postcolonial museum", another field of Wikimedia's engagement. The aim is to identify underrepresented knowledge in collaboration with museums, archives and libraries and to make it more visible. In collaboration with curators, volunteers develop the data sets for Wikipedia and its sister projects – of course, taking into account the respective context.
One example is the Karl Schmidt-Rottluff collection of the Brücke Museum in Berlin, which will be published in digital form on Wikimedia Commons – and critically reappraised at the same time. After all, the approximately 100 sculptures and objects originate from colonial contexts.
Dimensions of justice
Wikimedia also cooperates with the GRASSI Museum of Ethnology in Leipzig to support its transformation process "Reinventing GRASSI". In the course of this process, the museum's own ethnological collections are being examined in terms of their acquisition and exhibition history. Iliev stresses that digitization "must not overlook societies of origin".
As important as it is for cultural heritage institutions to open up digitally in order to create any transparency at all in terms of the objects in their respective possession, the process has to be handled with great sensitivity: "What are ways to create transparency and accessibility for and with societies of origin, and how can cultural objects be described digitally in such a way that they sustainably depict the various contexts of their identity?" In this context, Wikimedia has presented policymakers with three demands – including the creation and promotion of spaces where decolonial work can be done.
As Iliev says, "when it comes to digitization issues, there is always a dimension of equity that should be discussed". In any case, awareness of and consideration for these issues have grown.
Broadening the European view
Of course, the topic of "Knowledge Equity" is also about making Wikipedia and its sister projects more diverse, participatory and equal. The Head of Policy & Public Sector identifies two main hurdles on this path: "First, the encyclopedic form, which produces exclusions per se, or only includes what a few academically educated people define as knowledge." Here, it would be necessary to consider how the Wikimedia projects could also serve as an infrastructure to represent other forms of knowledge for example in audiovisual form.
"Secondly, our European concept of volunteering cannot be transferred one-to-one to all parts of the world." After all, it presupposes resources – above all time – which many people do not have. That makes the question all the more urgent how we, too, must change, "so that participation in Wikimedia projects becomes attractive to many more people."
One way is to keep the discussion about Knowledge Equity going, to seek contact with representatives of organizations and civil society and to expand our own circles – as with the series "Knowledge. Power. Justice." series. Lilli Iliev continues to see "great potential in terms of topics to choose from" for this purpose.